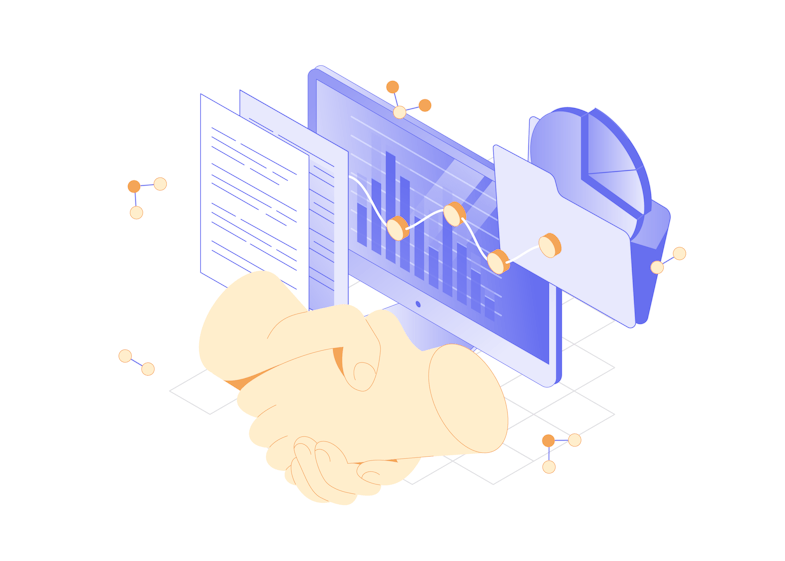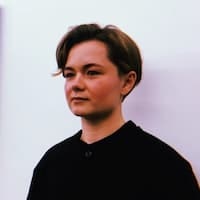 Susanne Morris
March 30, 2023
Business-to-business data, commonly known as B2B data, is information about other businesses that includes company identifiers, funding, revenue, and other metrics.  Firms use B2B data to improve their understanding of other businesses, enhance decision-making, generate business opportunities, and assist marketing and sales teams. In this article, we will explore the benefits, uses, and trends of B2B data in-depth.
What is B2B data?
B2B data can be understood as any relevant information about other businesses. It is primarily used to fuel marketing and new sales strategies or processes. Companies leverage this quality data to generate more business opportunities, improve lead generation, and enhance market research, among other things.
B2B data is information about other businesses that includes company identifiers, funding, revenue, and more.
B2B data sources
B2B data sources can be sorted into two groups: internal data and third-party external data. Internal data is usually collected by the company itself whereas third-party data is collected from providers.
Let's go over some examples of external data sources.
Business information websites containing firmographic data. These sources contain extensive data on businesses worldwide: general company information, funding, headcount, hiring activities, and more. Companies use this information for various purposes, from market research to investment.
Employee data sources. Sources like professional networks for business professionals contain large volumes of valuable B2B data about talent. Employee data can be used in various ways like powering HR tech platforms, transforming recruitment or analyzing the market, to name a few.
Review sites can be used for sourcing review data about competitors and companies you're interested in. Analyzing review data allows you to spot red flags, evaluate how employees of specific companies are feeling, what employees are looking for in general, and identify other positive or negative signals relevant to you.
Technographic data sources. Data about companies' tech stacks is often used for lead generation, market research, or investment.
Data sources
Businesses either collect data over time internally or purchase it from a third-party data provider company. Since acquiring, storing, and maintaining high data quality requires a lot of resources, many key decision-makers opt for buying their data from a data vendor.
Data providers can provide businesses with demographic data and company information scraped from public websites. Additionally, private and licensed sites are not an exception as well. 
Data providers
Aggregated B2B data can be acquired via B2B data platforms such as Datarade.ai or directly from data vendors. We recommend contacting data vendors directly since platforms charge vendors a comission fee and by contacting the vendor directly you are likely to get a better price. For instance, Coresignal offers extensive company, employee, and jobs data available through APIs; however, if you're looking for direct contact data, you should consider other vendors, such as Adapt.
B2B data use cases
B2B data plays a crucial role in the productivity, growth, and success of sales and marketing team. Additionally, companies leverage the data to conduct market research, industry analyses, and fuel AI-based tools.
Essentially, the aforementioned data use cases fall under three categories: lead generation, outbound sales, and analytics.
Let's take a closer look at the specific B2B data use cases practiced by businesses.
Lead generation
As previously mentioned, sales and marketing teams are the most common users of business data. Therefore, businesses utilize B2B data to enhance their marketing and sales strategies, boost lead generation, and consequently increase conversion rates.
For example, a software company can track a particular company's technographic data. In turn, they can provide their marketing and sales department with valuable insights into whether or not the prospective customer can enhance their current tech stack with additional software.
This is just one example of the many ways companies harness B2B data for lead generation.
Here are some other sub-use cases for B2B data lead generation:
Reaching your ICP
Lead nurturing
Cold outreach
Account-based marketing
Research and analytics
Outbound sales
A sale is defined as outbound when a sales team rep contacts the prospect first, not the other way around. It could be done with sales emails or you can direct-dial phone numbers on your contact lists.
On one hand, contacting a prospect directly can prove to be time-consuming, since you'll have to explain everything in detail with no guarantees that they will inform key decision-makers of your offer.
On the other hand, it could save time closing deals, since you might be able to convince them, generate qualified leads, and guide them down the sales funnel.
Analytics
In addition to benefiting marketing and sales, B2B data has the potential to enhance businesses' research and analysis processes:
Risk analysis
Market growth
Competitive analysis
More specifically, companies are able to use firmographics, technographics, and intent data for competitive analysis. For instance, a company might monitor its competitors' tech stack, locations, employee count, and product purchases to predict expansion or industry growth.
Likewise, there are many other analysis objectives and processes businesses can discover by leveraging B2B data.
Here are a few other sub-use cases for B2B data research and analytics:
Track market growth
Identify market gaps
Monitor competitors
Improve internal processes
Generate product/service updates
Risk analysis
Identify your ICP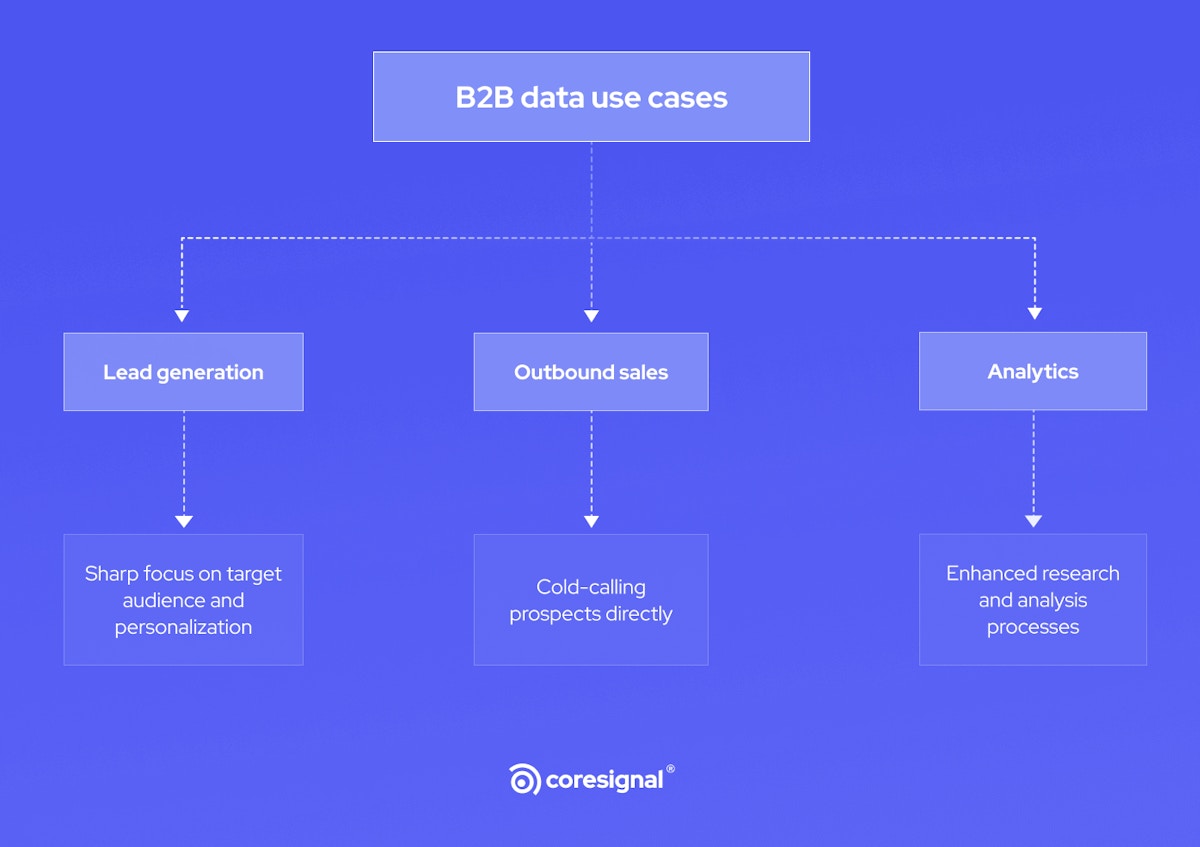 Benefits of B2B data
B2B data is essential because it helps businesses see a more complete view of other businesses.
For sales teams
More specifically, with B2B datasets sales reps can:
Enhance the investigation of potential clients. With enough data on potential clients you can segment them into different categories and investigate them according to a set of criteria;
Improve product and industry knowledge. B2B data provides you with information about product sentiment directly from the customers that allows you to consider the comments and make necessary product adjustments;
Ask more specific and tailored questions. Personalization is a powerful tool that allows you to tackle the prospects' needs or pain points specifically;
Understand clients' needs better. By utilizing B2B data you can build an image of your client and understand what they need to better prepare a sales pitch;
Find key people and ways to reach them. With B2B data you can select only the people and companies that interest you and fit your ICP;
Enrich current data to make more accurate business decisions. Adding more relevant data to your existing pile enriches the data and makes it more actionable and accurate. That is, of course, if the existing data is well-preserved and managed appropriately.
For marketing teams
As far as marketing is concerned, marketing professionals can use B2B datasets to:
Create an ideal customer profile (ICP). This applies to both sales and marketing campaigns;
Increase demand generation. Having B2B data by your side, you know what content is relevant in your industry that helps generate demand;
Enhance lead generation. B2B data allows you to generate leads more effectively since you can focus on a selection of audiences to satisfy their needs better instead of implementing mass-marketing efforts;
Make data-driven decisions. Data eliminates most of the guesswork and you can base your decisions on facts;
Know your target audience better. Knowing your audience allows you to personalize content and make it relevant to your target market.
For revenue operations teams
Revenue Operations (RevOps) is the process of integrating sales, marketing, and customer success operations across the whole lifecycle of a customer. RevOps is implemented in order to maximize the efficiency of operation and hold all teams accountable for revenue.
How can B2B data fuel revenue operations teams? Here's a list of benefits:
Data enrichment for more accurate insights to improve your operations;
Align sales, marketing, and customer success operations around a consistent set of goals.
"Any company will benefit from B2B data because it reduces the time it takes to track down the contact information of potential customers. Aside from that, it aids the firm's marketing department in focusing on the company's sales cycle times. This enables the organization to create invoices more quickly and handle payments more efficiently. Such B2B data will clearly show how a company is progressing by displaying cash flows."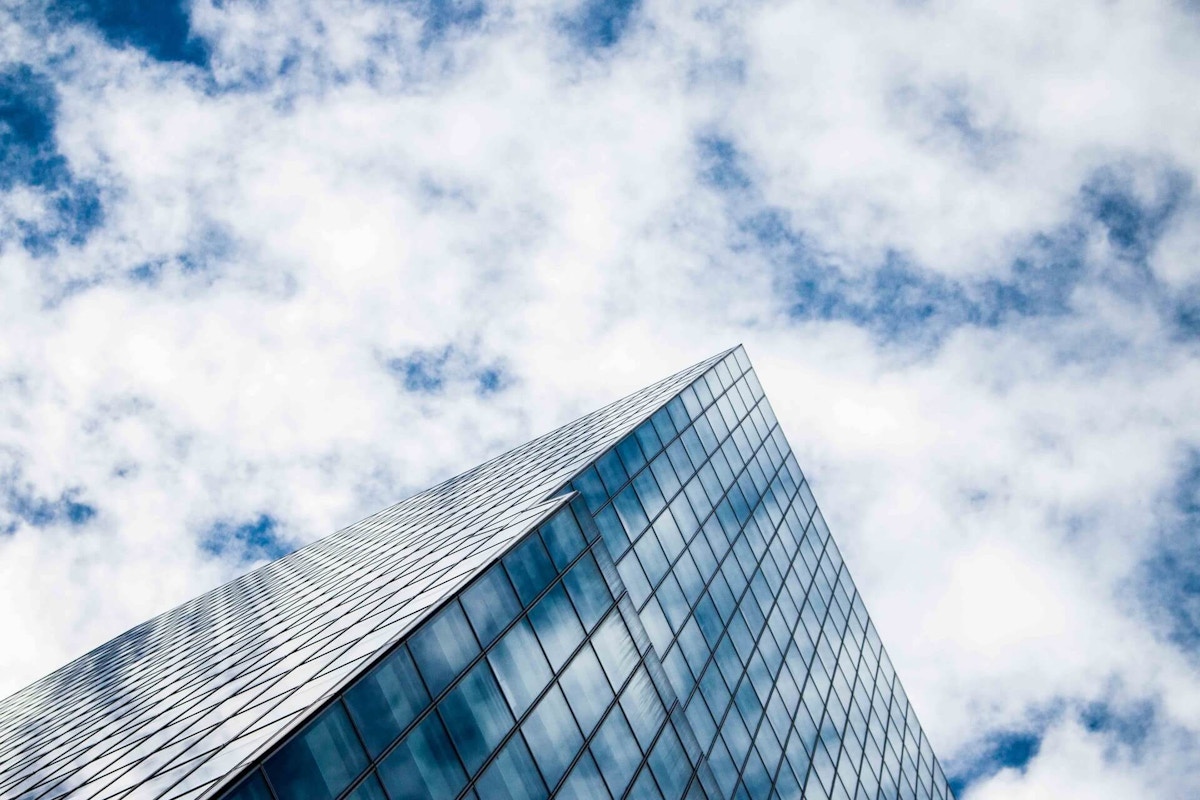 B2B data types
Next, you will find several B2B data categories. However, feel free to check our full data library for other types of data, many of which can be considered B2B, depending on context.
Each category has a wide data point selection, some of which are listed below.
Firmographics
Firmographic data provides decision-makers with categorical information about a particular company to further identify its structure, qualities, and other unique identifiers.
Several firmographic data points:
Company name
Location
Industry
Size
Revenue
Technographics
Technographic data is information about a company's technology stack, providing details surrounding the tools and technologies used by a company.
Several technographic data points:
Company name
Tech stack list
Features
Integrations
People data/Contact data
People data, also known as contact data in the context of lead generation, is collected either internally through a company's customer relationship management system (CRM) or externally by third-party data providers who either aggregate this data from varied sources or collect it from the public web with their own infrastructure.
Third-party people data from data providers, such as Coresignal, refers to employee data scraped from publicly available platforms. However, Coresignal does not collect any personally identifiable information, such as emails or phone numbers. Yet, our people data is a great source for enriching leads.
Some examples of people/contact data points:
Name
Age
Location
Recommendations
Employment history
Education
Intent data
Intent data, commonly referred to as B2B intent data, describes a company's recent business activities related to product or service purchase intent. This data provides details about recent acquisitions, services, purchased products, and search information.
Intent data points:
Company/professional name
Company website
Pageviews
Downloads
Subscriptions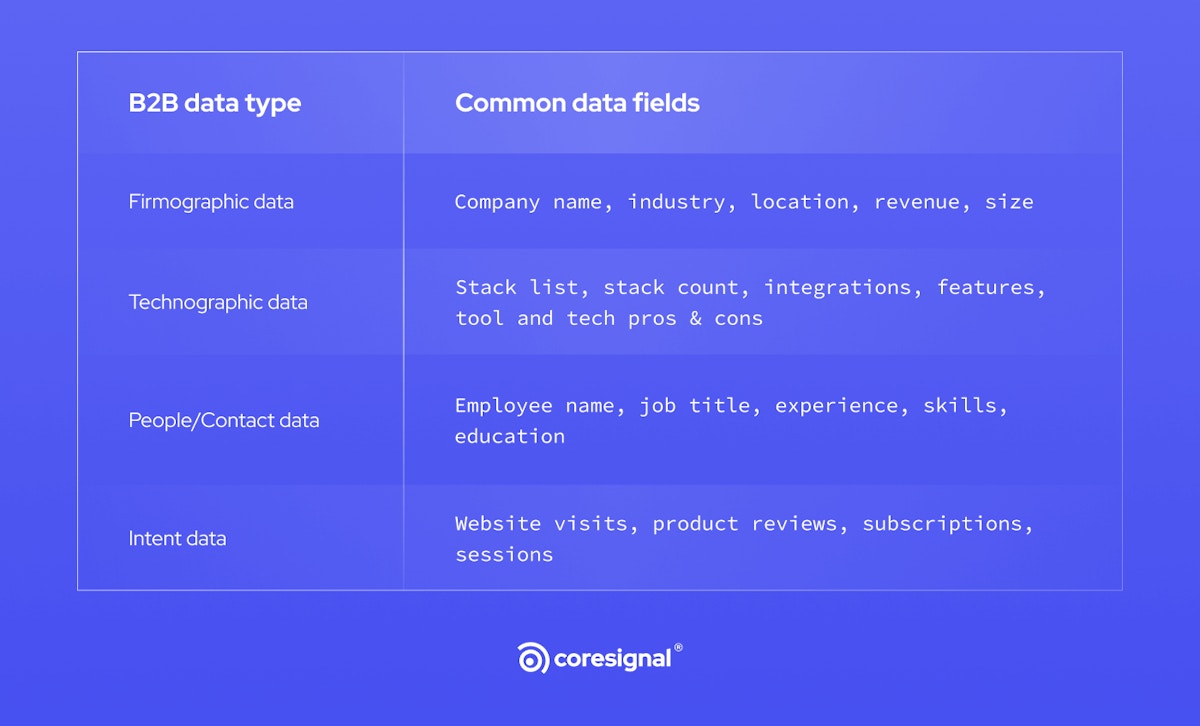 Outsourcing B2B data vs. collecting B2B data yourself
| Outsourcing B2B data | Collecting B2B data |
| --- | --- |
| Data is collected by other companies. | Data is collected by you. |
| Another company builds, and maintains the web data collection infrastructure, while the company only needs to process and store it after purchasing. | Company needs extensive human and financial resources for data collection, maintaining the data quality (including updates), and storage. |
| Data on demand. | Speed depends on multiple factors. |
| Doesn't require specific know-how and in-house specialists for both data collection and analysis (depending on the type of data solution you're using). One or both can be outsourced. | Requires specific know-how and in-house specialists for both data collection and analysis. |
| Availability of various data formats, delivery frequency, and other features depends on the vendor. | Full process customization is possible. |
| Fixed price. | Depends on many factors. |
B2B data mostly consists of firmographics, technographics, people/contact, and intent data.
What is a B2B database?
A B2B database is a collection of information about potential prospects or customers. A B2B database will include identifiers such as business contact details, industry, size, locations, and performance, among others. While a B2B database offers many benefits, managing and utilizing a B2B database requires consistent maintenance, compliance reviews, and cleaning.
Let's explore some of the most common B2B database processes used by businesses and data providers.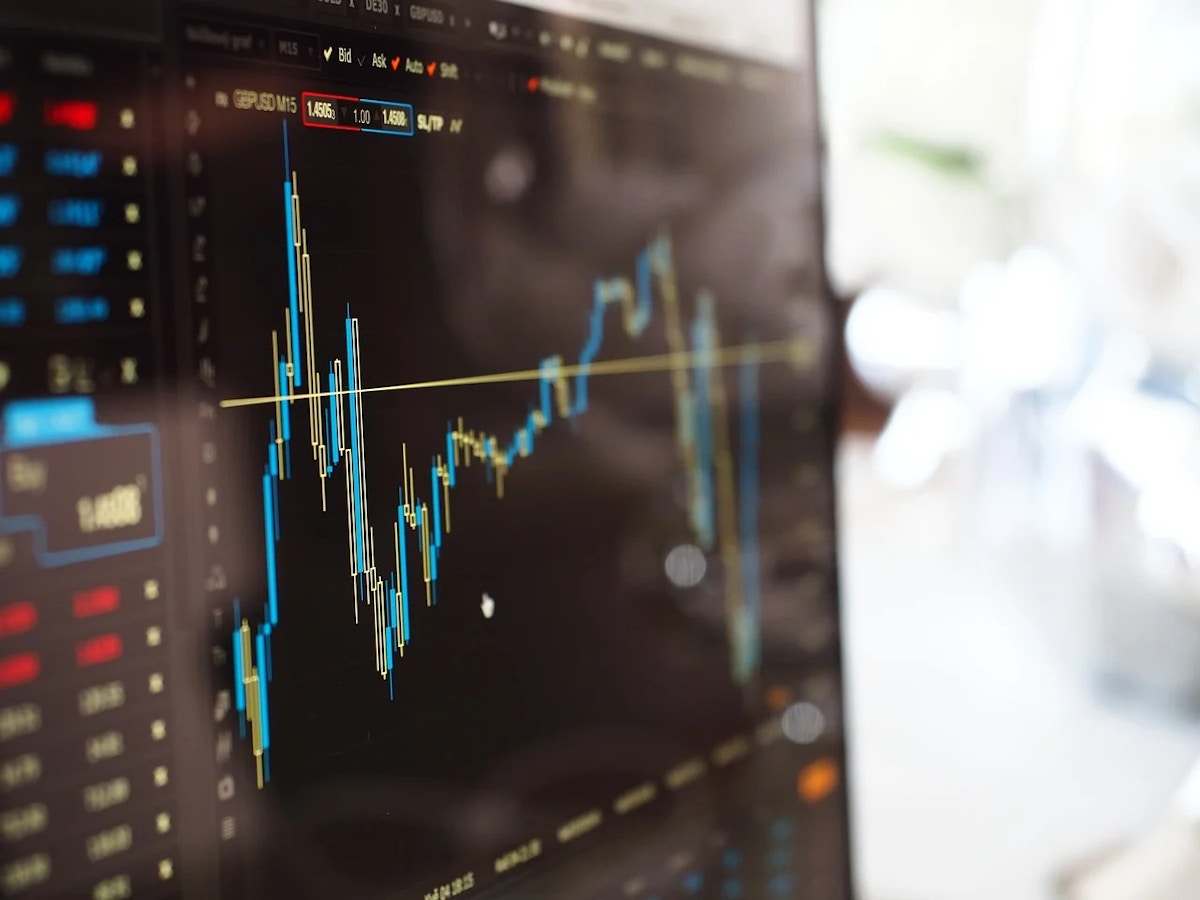 B2B database processes
B2B data sourcing 
Today, businesses are able to purchase data sourced uniquely for them. B2B data providers provide on-demand B2B data through database access or via raw files. In order to maximize any purchased data, companies should thoroughly review their existing datasets and strategize what gaps are missing in their datasets that would provide them with richer insights. 
Tips for sourcing quality B2B data
According to a study by Gartner, on average, poor data quality is estimated to cost organizations $15 million per year. The study also found that, on average, organizations believe that 27% of their data is inaccurate. Here the 5 guiding principles of sourcing high-quality data:
Focus on the know-how. Make sure that the skills of the people collecting and analyzing the data for you are up-to-date. Don't forget the importance of the rest of your teams having the appropriate skills to use the insights you're getting.
Make sure the data you're using is relevant. Even the most extensive dataset might not bring your business any value if you don't get rid of the noise in it. Every step of the process of working with large amounts of irrelevant data will be costly and, to put it simply, unfruitful.
Look for complete and accurate data. Before building an entire data strategy on it, make sure that you can source accurate and complete data.
Make sure the data you're using is fresh. Data freshness is one of the main data quality dimensions. It's also a very common factor that plays a major role in choosing a data provider, because it shows the provider's technical expertise.
Understand that it's a continuous process. Keep in mind that needing data for a one-time analysis is rather rare, especially if you are building a data-driven business and data plays an important role in your decision-making process. Therefore, revisit your decisions time by time to make sure you're sourcing the right data and making the most out of it.
B2B data cleaning
As businesses increasingly rely on data, companies are now recognizing the importance of cleaning their data. Data cleansing is the process of correcting inaccurate or corrupt data within a dataset. Because the business landscape changes so frequently, it is not uncommon for datasets to lack accurate data. For this reason, it is important for B2B databases to regularly sift through their datasets to check for errors, missing entries, duplicates, etc. 
B2B data validation 
In addition to cleaning data, it is important for businesses to validate their datasets. Data validation is the process of checking the accuracy of your datasets. This is done after data cleansing and involves checking data for meaning and correctness with predetermined validation rules and constraints. 
B2B data storing
While it might not be the obvious process, data storage remains businesses' most critical concern. Today, providers and customers must adhere to strict data storage guidelines required by the General Data Protection Regulation (GDPR) or adhere to best data governance practices. While most B2B data providers, including Coresignal, are GDPR compliant, it is important to confirm this, as non-compliant data might increase the risk of data breaches. 
Top three B2B data trends in 2023
1. Improved AI technologies
The COVID-19 pandemic has made remote work the dominant trend for the workforce. This upward remote work trend propels an increase in data creation and consumption, acting as a catalyst for creating new AI-based B2B data management technologies and services, such as Salesforce DMP.
In addition, as the global data-sphere continues to grow, even more so because of the pandemic, data providers and buyers emphasize improved data quality and data validation.
B2B businesses that want to stay relevant and drive revenue will have to build adaptive systems based on AI, hyper-automation, and digital scalability. The future of B2B marketing lies in using intent data to understand prospective customers' behaviors and reaching them at the right time.
2. Buyer-centric content marketing strategies
As we've explored above, the Covid-19 pandemic has impacted many facets of business. Relatedly, buyer-centric content marketing strategies will see an upward trend as more users and employees conduct and access their work digitally.
This increase provides a rich landscape for content marketers to personalize their marketing campaigns.
The future of B2B data is attribution. It allows you to automatically attribute your closed revenue to your marketing, meaning that you can spend more time experimenting with new channels, campaigns and creative.
- Laura Caveney, Ruler Analytics
3. Increased B2B data governance
As more and more data fills the global data-sphere, companies and governments are working to ensure the privacy and safety of data accessed online. Ultimately, the trend of data governance is here to stay.
According to Mordor Intelligence, the data governance market might even see a CAGR of over 20.83% from 2021 through 2026. Therefore, beyond following GDPR, a European data protection law, companies' best interest is to follow GDPR guidelines and implement data governance. Meeting those standards helps companies combat data breaches and reduce data-related risks.
Wrapping up
In all, B2B data has proven to help companies generate more business opportunities, improve lead generation, enhance market research, better align sales and marketing strategies, and more.
As the digitalization of the workforce continues to trend, businesses will look to B2B data to connect with other companies and sustain their ROI.
Stay ahead of the game with fresh web data
Coresignal's data helps companies achieve their goals
Don't miss a thing
Subscribe to our monthly newsletter to learn how you can grow your business with public web data.
By providing your email address you agree to receive newsletters from Coresignal. For more information about your data processing, please take a look at our Privacy Policy.