Fresh alternative data from public web sources
Enhance your investment analysis or build data-driven products with Coresignal's always fresh raw data of millions of professionals and companies from all over the world.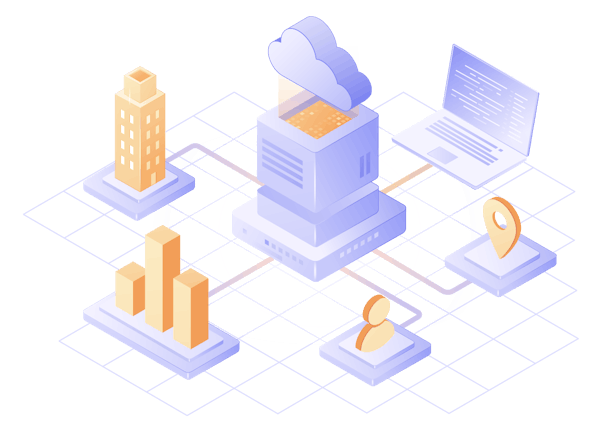 275M
records updated monthly
Structured data in JSON or CSV
With Coresignal, get raw datasets collected from business-related public online platforms. With a convenient choice of either parsed JSON or CSV, we will transfer the data via a web link or send the files directly to your preferred storage.
Always fresh data
Every month we update 149M high-value employee and firmographic records so you can always stay ahead of the competition.
Historical data
With up to 40 months' worth of data, our datasets can be used to test models and forecast trends, such as the growth of different industries and market sectors.
API solutions
Use Company data API to access, filter and query our main datasets directly or Real-Time API for on-demand retrieval of specific records straight from the public web.
Free data sample
See our employee and company JSON samples
Explore the main employee and firmographic data points
Find out the definition of each data point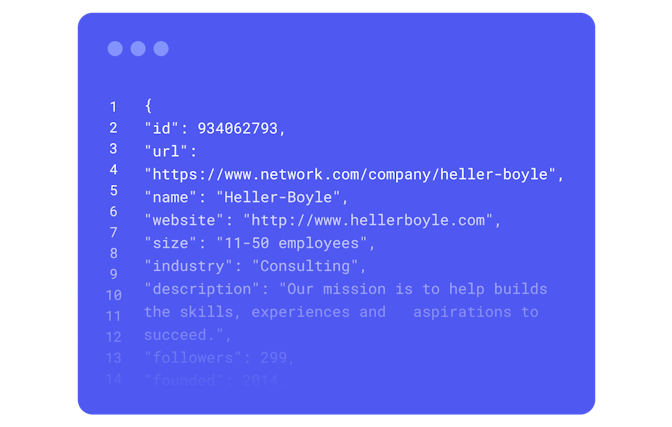 We might use your email to provide you with information on services that may be of interest to you. You can opt-out from any marketing-related communications at any time. For more information on your rights and data use please read our Privacy Policy.
How our data is used
From investment companies to sourcing tools for recruiters, our business data is leveraged for a multitude of use cases.
Custom
control over $197B in assets under management
Our lead generation clients
provide services to over 60K businesses
enable data-driven recruiting platforms
Boost your business with fresh raw data
Our main data offering consists of employee and firmographic records, spanning 8 web sources with hundreds of unique data points. Our full data offering includes a total of 8 data categories from 20 sources.
See full data offering
Why 100+ companies choose Coresignal
Our team includes some of the most experienced web data extraction professionals.
Reliable and convenient delivery
Regularly updated datasets are delivered in ready-to-use formats for your convenience.
Dedicated account managers
Get the most out of your data with Coresignal's dedicated account managers.
Parsed, ready-to-use data
Boost your data-driven insights with parsed, ready-to-use data delivered in multiple formats.
Coresignal's raw datasets include 644M member and 94M company profiles.
Clean and accurate records
Coresignal strives to provide you with fresh and accurate data from high-quality sources.
We like to keep it simple
1
Tell us what
you need
First, we discuss your specific needs. Optionally, we can offer a sample dataset. Then, you can either request the full dataset or data specific to selected countries and regions.
2
Get the
requested data
The requested data is then uploaded in CSV or JSON formats as a weblink or a file, directly to your preferred data storage.
3
Keep it
fresh
Outdated data loses relevance. With Coresignal, get daily, monthly or quarterly data updates.