Home
company data providers
Company data providers
Compare the solutions, data quality and extra features offered by the top providers working with professional network data.
Schedule a free consultation
TOP 4 company data providers
Features
Coresignal
Brightdata
People Data Labs
Mixrank
Data statistics
• 646M+ Employee profiles
• 67M+ Company profiles
• 156M+ Job postings
• 426M Profiles (companies & people)
• 28M+ Companies
• 3B+ Members
• 500M+ People data records
• 45M+ Company records
Profile discovery
18M+ new records discovered monthly
Unspecified
Unspecified
Unspecified
Delivery frequency
Daily, weekly, monthly, quarterly
Monthly
Monthly, quarterly
Hourly intervals possible
Data freshness
250M+ updates a month*
Unspecified
Unspecified
170M+ updates a month
Data structure
Consistent data structure per deliveries
Unspecified
Unspecified
Unspecified
Data formats
• JSON
• CSV
• Other (upon request)
• JSON
• ndJSON
• CSV
• Excel
• JSON

• JSON
• CSV
• PostgresSQL
Delivery methods
• Direct download via link
• Google cloud storage (and other)
• AWS S3
• Snowflake
• API
• Google Cloud Storage
• AWS Google Drive
• SFTP
• API
• Direct download via link
• AWS S3
• Snowflake
• API
• Direct download
• Cloud storage
• PostgreSQL databases
• Hosted Mixrank database
• API
Please note that all information on this page is based on publicly available information from data providers' websites. *At Coresignal, "updates" mean profiles that were checked or (and) updated.
Get started with Coresignal
Book a call with our data experts and get a free consultation on using public web data to enhance your business.
| Features | Coresignal | Brightdata | People Data Labs | Mixrank |
| --- | --- | --- | --- | --- |
| Database APIs | | | | |
| Scraping APIs | | | | |
| Provides GDPR/CCPA-related information | | | | Unspecified |
| Profile qualification* | | Unspecified | Unspecified | Unspecified |
| Historical data | 7+ years | Up to 1 year | | 8+ years |
*Profile qualification is the process of refreshing data based on specific priorities. These priorities are related to the business value of the profile.
How to choose a reliable data provider?
Traditionally, data quality is measured based on factors such as how accurate, complete, uniform, and fresh it is. However, in our experience, there are a few other criteria that are helpful when choosing a reliable data provider.
One of them is coverage,  the number of data records and locations,  which shows the technical capabilities of the data provider. Just as important is data freshness. Besides being an important factor for businesses, data freshness also reflects the expertise of the data provider.
Refreshing data and doing it in a systematic way that brings the most value to the clients, for example, by refreshing data based on specific priorities and profile qualification logic, requires years of experience and a capable, client-focused team that can build the required infrastructure and processes to collect and update the data.
Being able to get all the relevant information about data quality, specifications such as fill rates or data structure stability, and features mentioned above also shows that the data provider is transparent and can be trusted. At Coresignal, we provide information about metrics like fill rates (fill rates reflect the percentage of empty fields in data you're getting) to our potential clients, and we can ensure stable data delivery and consistent data structure with every delivery as well.
Lastly, it's essential to test and see if the data you're getting from the provider meets your business needs and expectations.
Ethical Web Data Collection Initiative
Coresignal is a proud founding member of the Ethical Web Data Collection Initiative (EWDCI). Here's what EWDCI does:
Advocates for responsible web data collection and use of personal data;
Educates and guides the industry on the use of ethical resources and tools used in web data collection;
Fosters consumer confidence in data collection through transparency and accountability;
Enables commercial innovation and promotes online safety.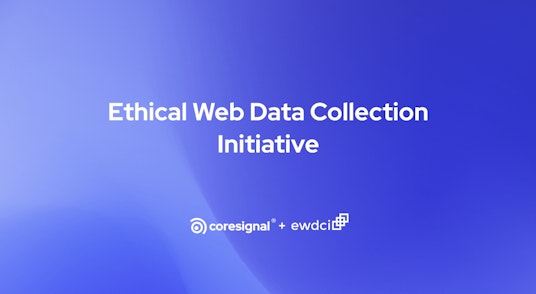 Grow your business with extensive datasets
Coresignal offers parsed, ready-to-use data for investors, HR platforms, and lead generation companies.
To discuss your data needs and options, please fill out the form to the right.
419M records updated monthly
70 months of historical data
Delivery in JSON, CSV, and HTML
Coresignal's datasets and APIs
Companies
Dataset of 67M+ company profiles. It includes title, website URL, industry, location, and other data points. Company data is often used for investing, building HR platforms, and market research.
Employees
Dataset of 646M+ employee profiles. It includes job position title, location, industry, company name, and other data points. Employee data is valuable for investment, lead generation, and HR.
Jobs
Dataset of 156M+ job postings. It includes job title, location, employment type, description, and other data points. Jobs data is valuable for investment, lead generation, and HR.
Database APIs
Search, filter, and enrich with direct access to a large-scale database:
-Company API
-Employee API
-Jobs API
Scraping APIs
Get 100% fresh data records on demand using scraping APIs:
-Company scraping API
-Employee scraping API
-Jobs scraping API
Stay ahead of the competition with web data
Book a consultation with our data experts and learn how you can use web data for your business.
Explore our data at your pace
Sign up and get access to our interactive data catalog:
View and download data samples
Browse complete data dictionaries
Calculate custom data prices
Submit data inquiries