Back to blog
Top Data Science Jobs in the U.S. and Europe (2022)
Indrė Ožalinskaitė
July 14, 2022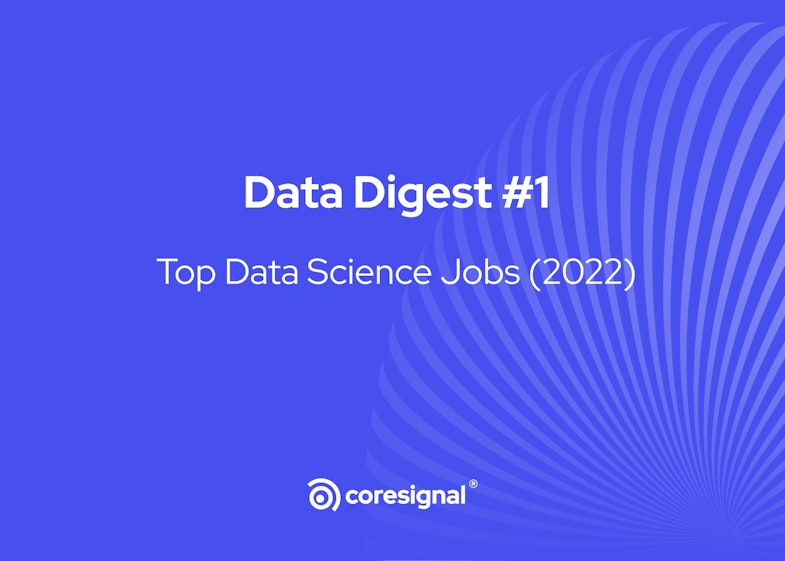 The future for data science and analytics careers looks promising. The field has been experiencing continued growth for many years. For various companies worldwide, data is now the cornerstone of their business.
The global big data market is expected to grow to 103 billion by 2027, according to Statista. This market has been gradually expanding since 2011. As a result, careers in data science have become more popular and more versatile.
The advancements in this field influence the segmentation of job roles and skills needed to work with specific types of data and stages of data-related processes.
We have analyzed over 280,000 data science job ads posted on one of the largest online job posting platforms in the first months of 2022 in the U.S. and Europe to see which data specialists are currently in high demand in these regions.
Here are the TOP 8 data science jobs in the U.S. and Europe this year: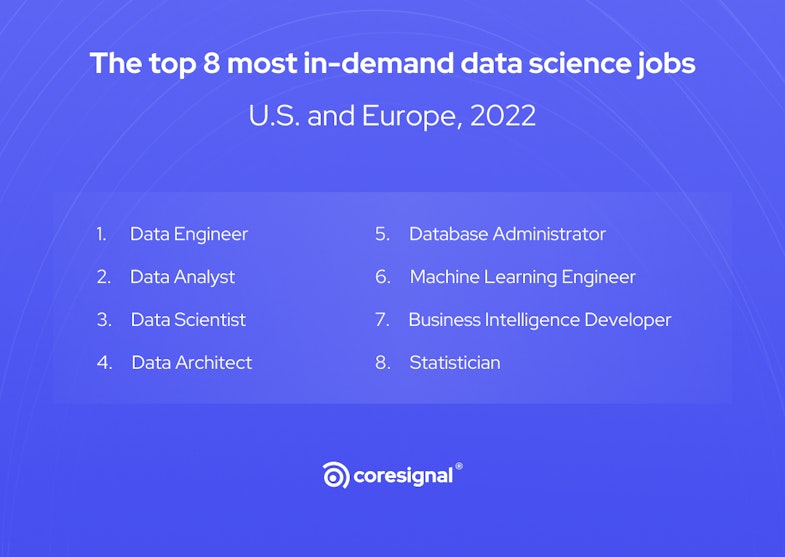 Overall, there were no significant changes in the number of job postings for data specialists during the five months we have analyzed. In Europe, the highest number of job ads were posted in February. In the U.S., the highest number of job ads were published in April.
Out of more than 280,000 job postings we analyzed, 75% of job opportunities in data science were in the U.S.
Curious to know more?
Download our free data digest to see the top locations for data specialists, find out who are the most sought-after experts in data science, and learn more interesting facts about job postings for specialists in this field.
Free Data Digest
See data science jobs that are in-demand through the lens of web data
Learn interesting facts about job postings in the U.S. and Europe
Get a glimpse of Coresignal's job posting data
We might use your email to provide you with information on services that may be of interest to you. You can opt-out of any marketing-related communications at any time. For more information on your rights and data use please read our Privacy Policy.
About Coresignal Data Digest:
Data digests consist of information extracted from Coresignal's databases. It provides unique insights into different topics through the lens of alternative data we collect. Our data digests combine information from various sources that we work with and give you a brief overview of the different ways to use data from Coresignal for your business.
Stay ahead of the game with fresh web data
Coresignal's data helps companies achieve their goals