Datasets
Data APIs
Data sources
Use cases
Resources
Pricing
Back to blog
Data shows that one in three startup founders have built more than one company
There isn't one definite answer to the question of what makes someone ready to start a new company. However, analysis of public web data on company founders shows that they have some similarities when it comes to work experience and entrepreneurship.
With the help of startup data, we've taken a look at some interesting data about company founders who have founded a new business in the past two years.
For this analysis, we've used public web data records from one of the largest professional networks and other online sources. In total, this analysis included over 150,000 people who are company founders.
One in three founders are serial entrepreneurs
For 35% of people who have founded a new company over the course of the last two years, this isn't their first one. Analysis shows that one in three company founders has founded more than one company.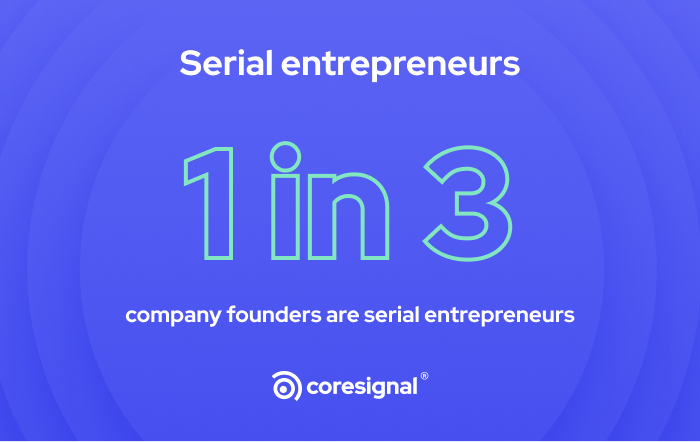 However, founders are likely to focus on one business at a time, as only 2.6% of them have founded more than one company in the course of 2 years.
While most company founders are open about what they're working on, at least 2.8% or a little over 4,300 company founders we included in this analysis operate in secrecy, commonly known as stealth mode. Founders working on secret projects have stealth startups or call themselves stealth founders.
Unicorn experience helps in creating new unicorns
Almost 40,000 of the 150,000 founders of new companies we included in our analysis are based in the United States. 2.5% of them have graduated from Ivy League schools, such as Harvard, Cornell, or Princeton.
Analysis of experience patterns among new company founders from around the world showed that 6.8% have previously worked in unicorn startups, companies that exceed 1 billion evaluation.
A similar pattern can be seen looking at experience working for tech giants, as 6.3% of 150,000 new company founders included in this analysis are former employees of the largest tech companies (ranked by market cap), such as Apple, Google, Amazon, and Microsoft.
Don't miss a thing
Subscribe to our monthly newsletter to learn how you can grow your business with public web data.
By providing your email address you agree to receive newsletters from Coresignal. For more information about your data processing, please take a look at our Privacy Policy.