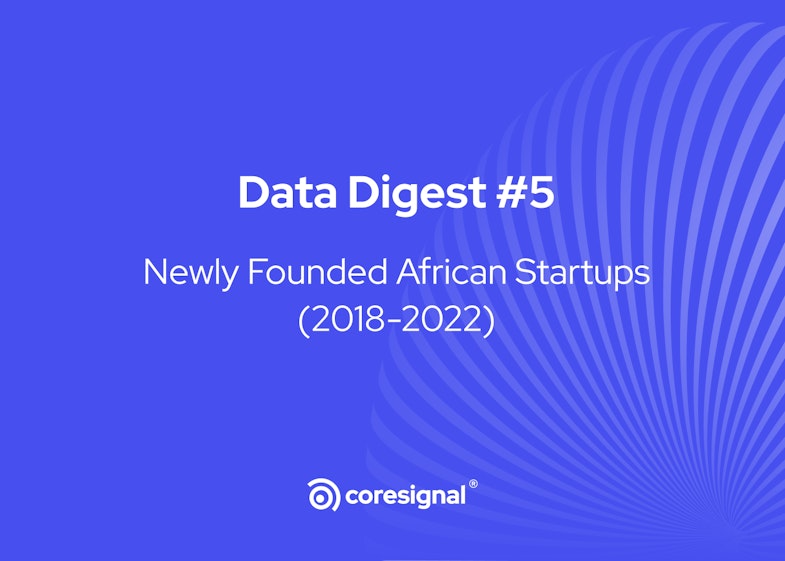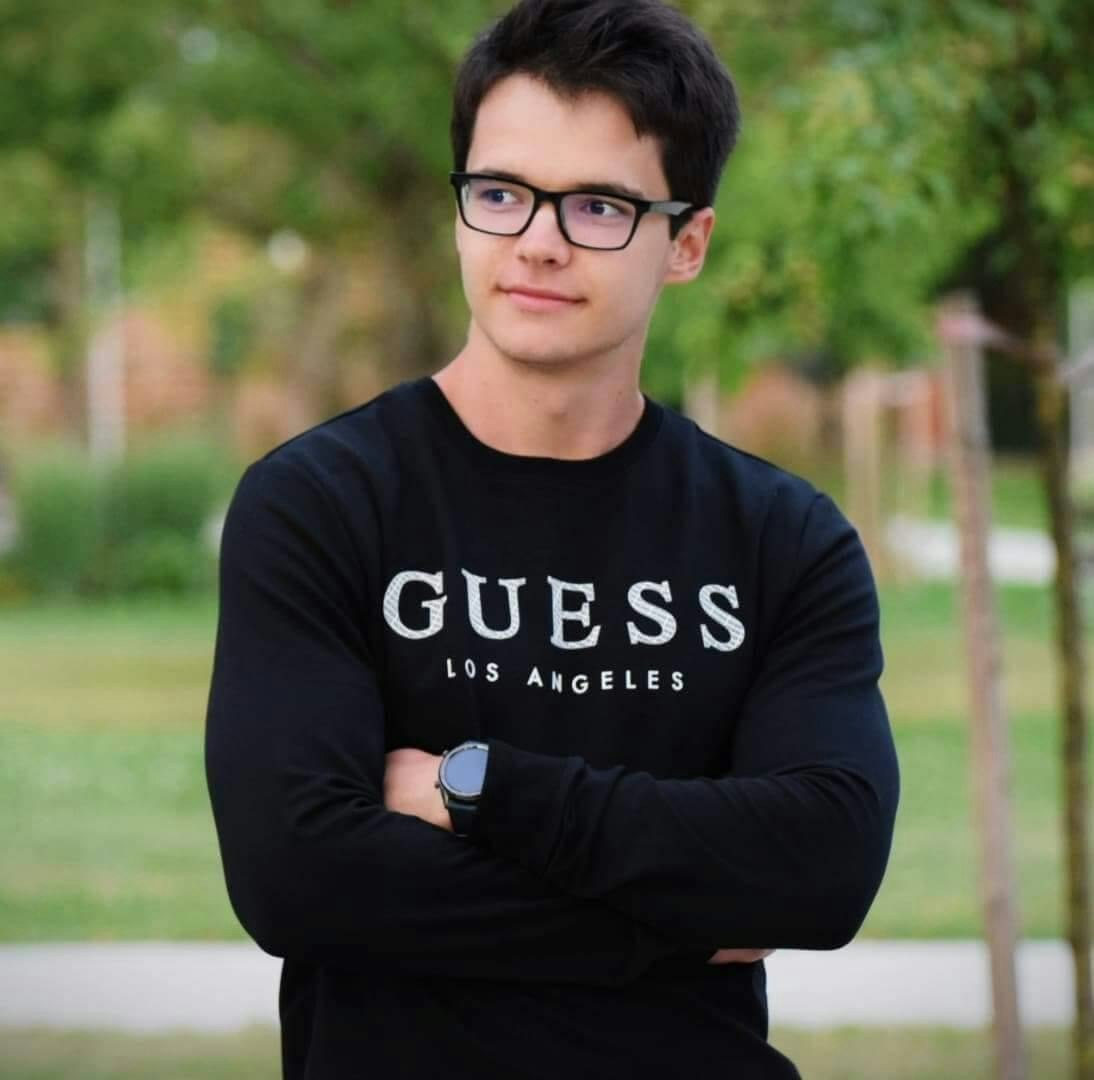 Andrius Ziuznys
January 10, 2023
Introduction
2021 was a very successful year for African startups since they managed to raise around $4.5B in funding. Several years ago it was difficult to find any numbers for VC funding in Africa at all, and today the numbers are skyrocketing.
In 2019, the top African countries for VC funds were mostly Nigeria, Kenya, and Egypt. In this report, we will see if there were any changes and/or new additions to the top 3 list.
Following the news, we decided to do a research and see where are the most startups in Africa located, what countries raised the most startup funding, see some specific examples of the largest African startups in size, and how did the number of newly founded startups change from 2018 to 2022.
In short, it appears that funding amounts have decreased since 2018 and the number of newly founded startups has also declined. Interestingly, Senegal made its way to the top 3 African countries in terms of startup funding while only having founded 29 startups. Keep reading to find out what happened.
The analysis was performed based on public data available on Crunchbase.
Where are the most startups founded in Africa?
For the purpose of this report, we defined startups as companies that were founded during the period of 2018-2022.
Nigeria takes a clear lead in terms of newly founded startup companies, standing as high as 1288 new startups created from 2018 to 2022.
Egypt stands in second place with 667 startups and South Africa comes in a close third with 521 newly founded startups.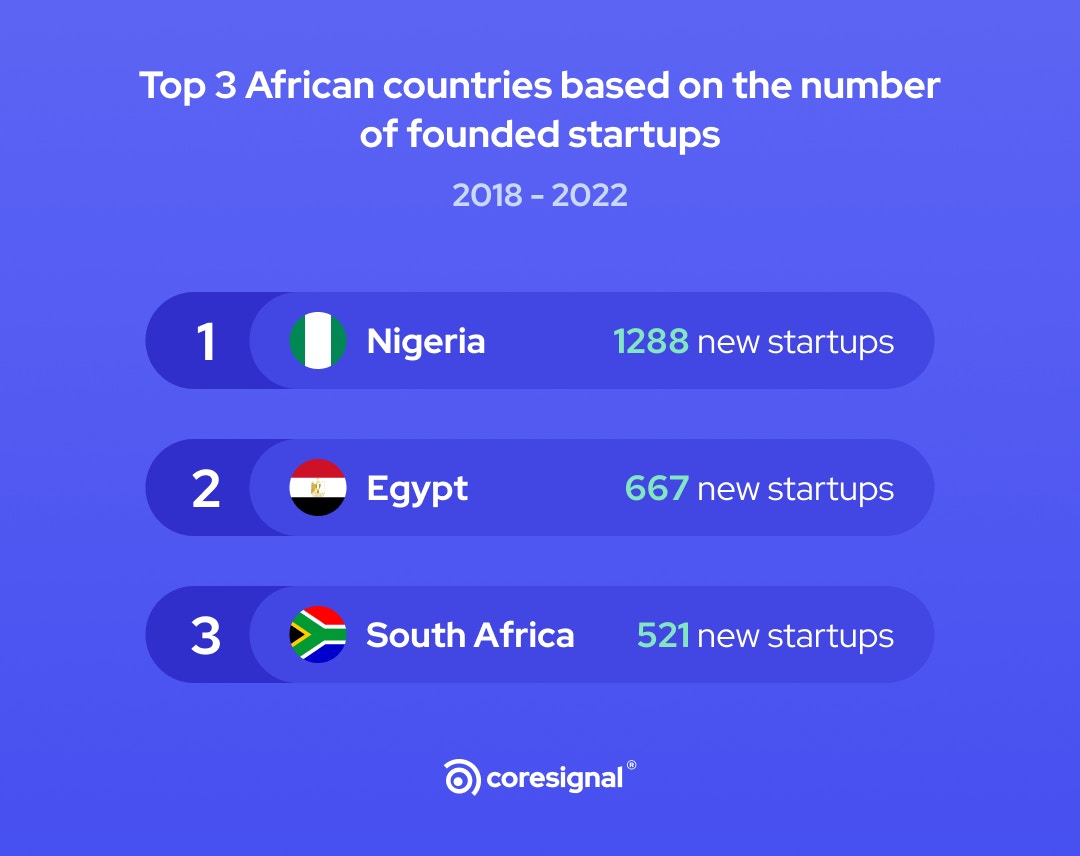 Which African countries accumulated the most startup funding?
Based on Crunchbase data, throughout 2018-2022, Nigerian startups were clear leaders in Africa, raising over $1 billion in funding.
However, an even more interesting finding is that Senegal, a country in which only 29 startups were founded throughout the analyzed period, managed to raise nearly $600 million, whereas Egypt, a country in which 667 startups were founded, raised around $50 million less in funds.
Another interesting thing is that Nigeria and Egypt have populations of around 211 million and 103 million people respectively, whereas Senegal is a significantly smaller country with a little more than 17 million people.
What are some of the largest African startups in terms of size?
There are 4 startups that stand out of the crowd with over 5000 employees: Polaris Bank Limited, Vicmie Inc, Truehive, and GetaJobNG.
Polaris Bank offers commercial banking services in Nigeria, provides products and services to all key areas of the Nigerian economy, and also offers retail banking, investment banking, trade services, and more.
Vicmie Inc provides professional digital services to small businesses and entrepreneurs with software and technology to help them reach their MVP.
Truehive is a platform for freelancers that allows them to select projects and work on them. Clients can post projects for free and attract freelancers who want to bid on the projects.
GetaJobNG is a recruitment platform that connects recruiters to best-fit candidates and allows candidates to find verified job vacancies.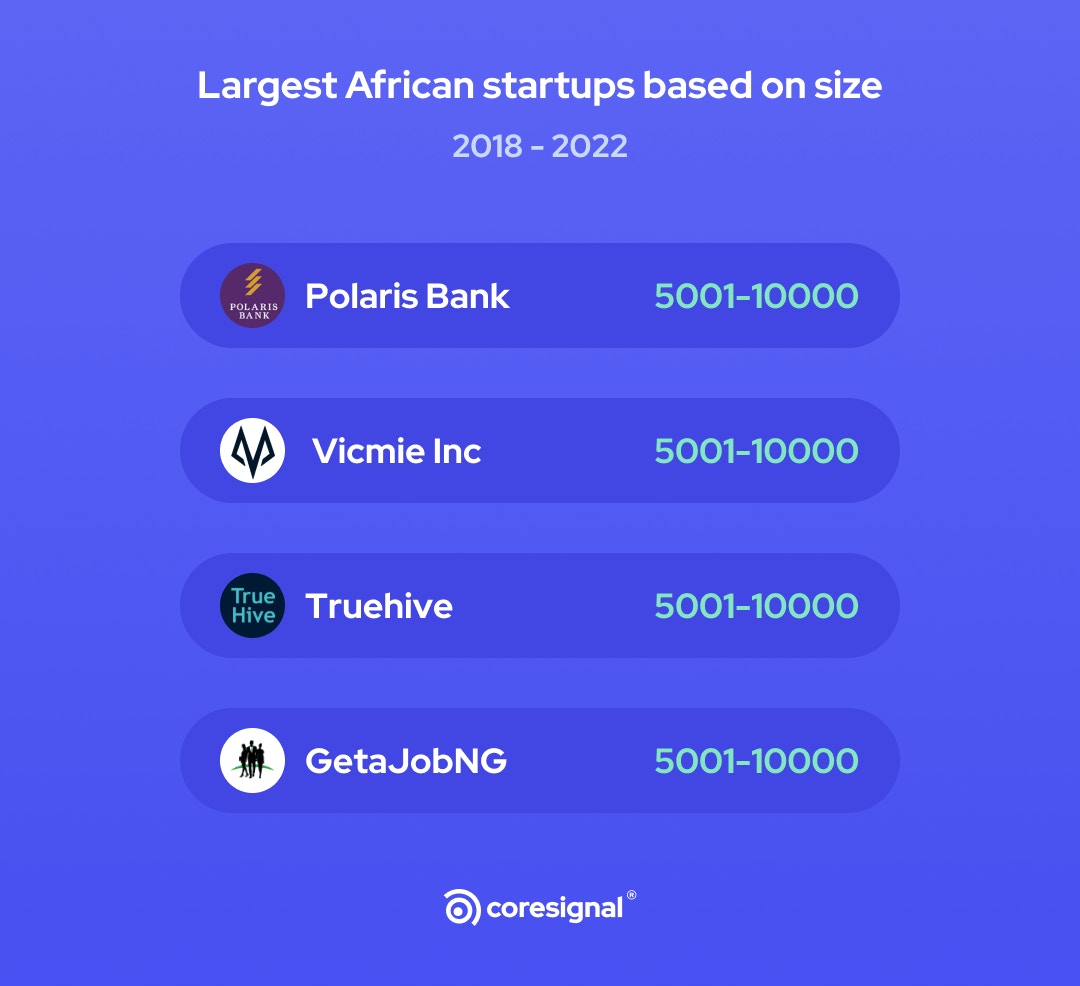 How did the number of new startups change throughout 2018-2022?
In 2018, according to Crunchbase, there were 1303 newly founded startups in Africa. Since then, the pace of new startups has consistently declined, as the chart below suggests. The highest growth seemed to happen in 2019 when another 1073 new startups had been founded. 2020 didn't fall far behind with 890 new startups. In 2021, Africa came up with 594 new startups, and as of September 2022 there were another 150 newly founded companies.
Note: this graph doesn't represent actual numbers of startups in Africa, only separate snapshots of how many new startups were founded every year. Assuming that all the startups still operate, you could say that by the end of 2022, Africa had around 3.8K new startups. However, we cannot guarantee how many of these newly founded startups survived up until 2022.
Funding for African startups founded in 2018-2022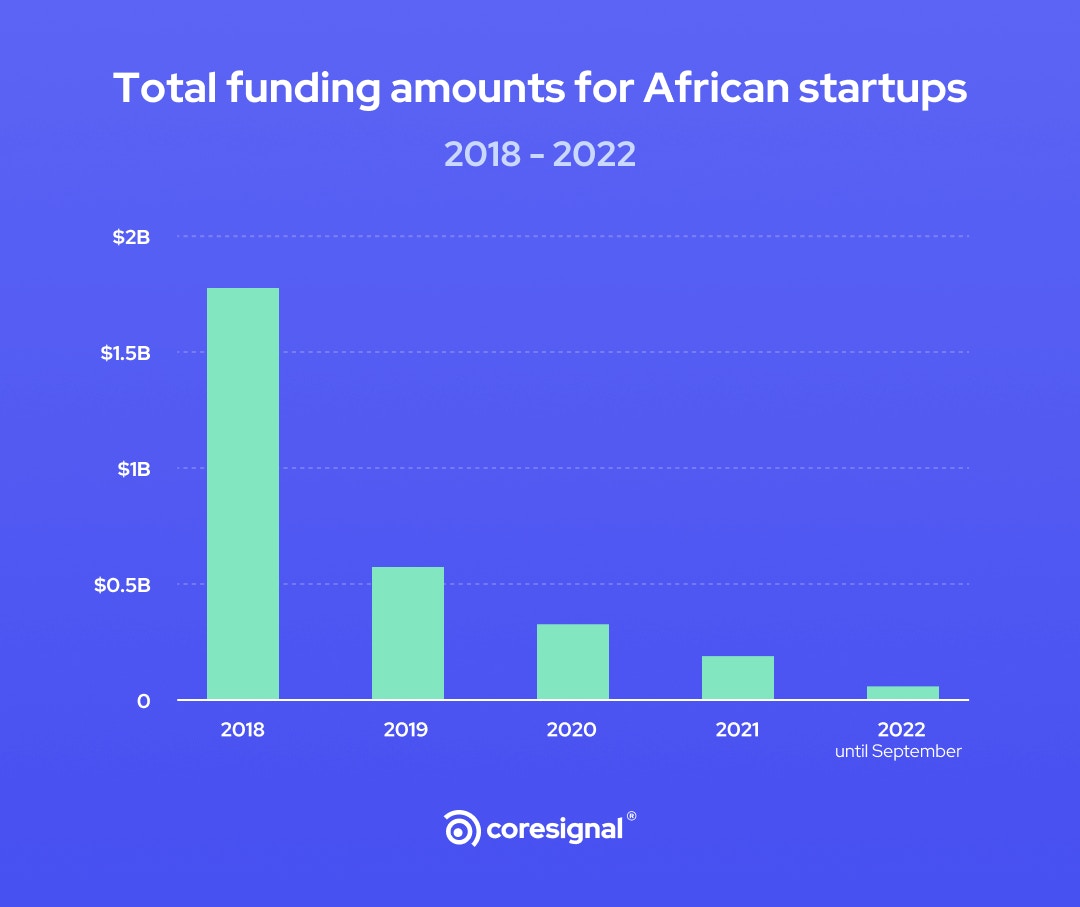 In terms of funding, you can see that the amount of money raised by African startups also steadily decreased over the years, along with the number of new startups. Although, it's not to say that the startups founded after 2018 are less successful since the startups that were founded in 2018 have been in the market longer than the ones founded later. The total funding in 2018 stood at around $1.8 billion and by the end of 2022, it dropped to around $60 million. However, adding up all of the raised funds, Africa raised almost $3 billion from 2018 to 2022.
Note: keep in mind that these funding amounts only represent the funding raised during 2018-2022 for the newly founded startups. If a company that was founded in 2015 has received $1B in funds in 2021, we did not include that record, because the focus is solely on newly founded startups during 2018-2022.
Final thoughts
To conclude, Nigeria stands at the top of the African startup ecosystem with over $1 billion in terms of funding and with 1288 startups founded from 2018 to 2022. A couple of other African countries that stand out are Egypt, Senegal, and South Africa.
Senegal could be considered an outlier in this case since it attracted over $500M in funding while only having 29 startups founded.
Coresignal data digest
Data digests consist of information extracted from Coresignal's datasets. It provides unique insights into different topics through the lens of public web data.
Our data digests combine information from various sources that we work with and give you a brief overview of the different ways to leverage this data for analysis.
Don't miss a thing
Subscribe to our monthly newsletter to learn how you can grow your business with public web data.
By providing your email address you agree to receive newsletters from Coresignal. For more information about your data processing, please take a look at our Privacy Policy.